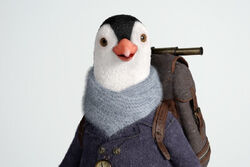 Wilbur the Penguin is a penguin who has been the mascot of British Gas since 2015.
Adverts feature Wilbur travelling into a family home and is amazed by all that he sees – from a box on the wall featuring a mysterious blue flame (boiler), steamy hot water, to a lovely warm radiator – through him we experience the wonders of a warm and working home. As he continues his journey, we're reminded of the role that British Gas plays in keeping our homes just as we like them.
Ad blocker interference detected!
Wikia is a free-to-use site that makes money from advertising. We have a modified experience for viewers using ad blockers

Wikia is not accessible if you've made further modifications. Remove the custom ad blocker rule(s) and the page will load as expected.