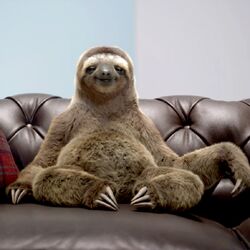 Neal the Sloth is the mascot of sofa company Sofology (formerly Sofaworks).
He is a three-toed sloth who in adverts is seen relaxing on sofas knowing that he doesn't have to pay a high price for them.
Toy versions of Neal have been sold in Sofology when customers purchase a sofa.
The animations were made by Jellyfish Pictures, and based on the original motion reference sequences performed by the actor Jeremiah Krage.
Ad blocker interference detected!
Wikia is a free-to-use site that makes money from advertising. We have a modified experience for viewers using ad blockers

Wikia is not accessible if you've made further modifications. Remove the custom ad blocker rule(s) and the page will load as expected.