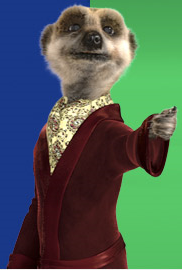 Aleksandr Orlov is a Russian meerkat who has appeared in adverts for insurance company ComparetheMarket.com since 2009.
He is voiced by Simon Greenall.
Aleksandr lives in a mansion in the Russian village of Meerkovo with his sidekick Sergei. On 25 December 2013, Aleksandr and Sergei found a baby meerkat named Oleg on their doorstep and adopt him. However a year later on 25 December 2014 whilst on a trip to Africa, Oleg leaves Aleksandr and Sergei's care to live with the meerkats living there.